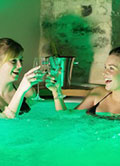 Make your afternoon extra special with a 25 minute Decleor treatment from our selection below, followed by a delicious Afternoon Tea. Available between 3pm - 6pm. Included within your afternoon are 2 hours use of our Thermal Suite.
25 Minute Treatment options
Aromatherapy Discovery Facial
Men's Express Energising Face Treatment
Swedish Back Massage
Aromatherapy Back Massage
Tranquillity Scalp Massage
On the Move Manicure
On the Move Pedicure
*Thermal Suite includes: Hot Tub, Sauna, Stream Room, Experience Shower and access to our cosy Relaxation Room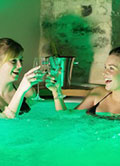 The perfect place for ladies that lunch, enjoy a relaxing 25 minute Decleor Treatment from our selection below and a two course lunch served between noon and 2pm. Included within your package are 2 hours use of our Thermal Suite.
25 Minute Treatment options
Aromatherapy Discovery Facial
Men's Express Energising Face Treatment
Swedish Back Massage
Aromatherapy Back Massage
Tranquillity Scalp Massage
On the Move Manicure
On the Move Pedicure
*Thermal Suite includes: Hot Tub, Sauna, Stream Room, Experience Shower and access to our cosy Relaxation Room